DID YOU KNOW? Several grade levels require an updated physical and vaccination record for the 2023-2024 school year!
The deadline for vaccines and physicals is Oct. 15. If you do not have the proper documentation on file in the Health Office, your student will be excluded from school. Please contact the Health Office at your student's school if you need assistance in meeting these requirements.
If your student has an appointment scheduled in the upcoming months, be sure to request an IL physical form and/or updated vaccination record.
Kindergarten Students/ Students New to District 50:
Physical Exam (Parents please complete the yes/no Health History questions on the back and sign and date)

Complete immunization record signed by the medical provider to include

DTap (5 doses)

Polio (4 doses with one administered on or after 4th birthday)

Hib (4 doses)

Hep B (3 doses)

MMR (2 doses)

Varicella (2 doses)

Pneumococcal (4 doses)

Dental Exam on IL form (dated within 18 months)

Eye Exam on Illinois form dated within one year of the first day of school

Second Grade Students:
Dental Exam on IL form (dated within 18 months)
Frequently Asked Questions
The deadline for submitting vaccine records and physicals is Oct. 15!
Sixth Grade Students:
Physical Exam (Parents please complete the yes/no Health History questions on the back and sign and date)
Complete immunization record signed by the medical provider to include

Tdap (1 dose)

Meningitis (1 dose)

Dental Exam on IL form (dated within 18 months)
Middle School Students participating in Sports:
Sports Physical

Valid for 13 months from last exam but should cover the entire sports season

Must be turned into Health Office at least 1 week before tryouts

Please contact the Middle School Health Office to confirm that a current sports physical is on file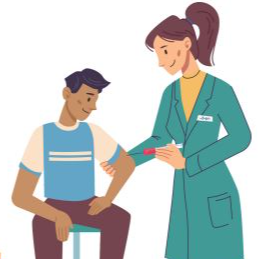 Vaccine Clinic for 6th Grade